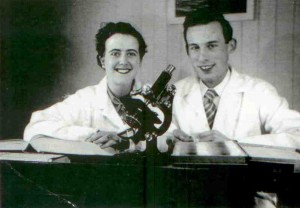 Albert (Al) Cox, MD l954, first met Margaret (Peg) Dobson in the microscopic anatomy class. Students were seated alphabetically so the only obstacle keeping Al apart from his future wife was one classmate named Peter Devito. Pete eventually switched seats with Al, as he got tired of being in the crossfire of conversation over his microscope!
Al asked Peg for their first date while they were in the gross anatomy lab – unusual but not exactly a romantic setting! Over the following years they went out together and also studied together, often walking home along University Boulevard. During summer vacations Al lived at home in Victoria while working as a house painter and taxi driver, while Peg worked as a nurse aide and later a lab assistant at what is now Riverdale Hospital in Coquitlam, and later at the lab of the Royal Jubilee Hospital in Victoria.
They married in May 1954 and pursued postgraduate study and jobs in Vancouver,
London England, Seattle, Salt Lake City and St John's, spending 22 years in Newfoundland and Labrador, where Al was Professor of Medicine at the new Medical School of Memorial University and later Dean. Peg practiced pediatrics at the Janeway Child Health Centre and the university while the family of four was growing up. They retired to Vancouver Island in l991 where Al established an organic garlic farm. They shared their 57th wedding anniversary with the 57th
class reunion this year.
-Submitted by Al Cox, MD'54 & Margaret Cox, MD'55