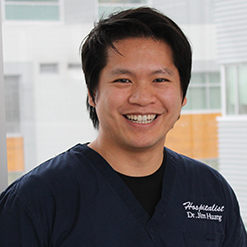 Knowing that we're stronger together, a small group of UBC's first graduates formed alumni UBC on May 4, 1917. The UBC alumni community is now a global network of more than 360,000 UBC alumni in 140 countries.
The Alumni Builder Awards were established as part of alumni UBC 100, the alumni association's centennial, to recognize alumni who, in their own way, have made important contributions to the success of UBC and its alumni community. The awards are presented by alumni UBC on the recommendation and in partnership with UBC's faculties, advisory councils, and other leadership groups.
Dr. Jim Huang, MSc'11, MD'15, is awarded an Alumni Builder Award in recognition of his impactful contributions to the UBC Southern Medical Program (SMP) community as a student through co-founding the SMP Student Golf Tournament that continues to support local charities. As an alumnus, Dr. Huang has shown his continued dedication to the SMP and Kelowna community as a Hospitalist and a Clinical Instructor at UBC.
Dr. Huang's passion for volunteerism started early in his career. While completing his Bachelors of Science in Biochemistry and Molecular Biology at Simon Fraser University and Masters of Science in Medical Genetics at UBC, he volunteered his time for Big Brothers of Greater Vancouver and the Sunnyhill Health Centre for Children as a Recreational Therapist and Aquatic Therapist Assistant, engaging children with disabilities to live their lives to the fullest.
As an MD student of the SMP inaugural graduating class, Dr. Huang helped co-found the first SMP Student Golf Tournament in 2012 with an organizing committee of fellow students. From its inception, the cofounders' vision was to bring the SMP and Kelowna medical community together for a day of golf and community building, while raising important funds for local charities. Dr. Huang's contributions to the first two year's of the Tournament's beginnings helped lay the groundwork for successive groups of SMP students to grow this annual event into a highly-regarded community event, supported by local medical students, faculty, staff, alumni, and Kelowna-area physicians every year. Since its inception, the Tournament has raised almost a combined $50,000 for local charities, including the Kelowna General Hospital Auxiliary, Kelowna General Hospital Foundation, and Canadian Mental Health Association (CMHA) Kelowna. In 2019, the tournament raised over $20,000 for Hope Air, a charity which provides transportation for patients in financial need to ensure they receive vital medical care away from their hometowns.
During his time as a student, Dr. Huang also served as an ambassador for the SMP and participated in numerous marketing initiatives for prospective medical students. Today, Dr. Huang is a Hospitalist at Kelowna General Hospital (KGH) and a Clinical Instructor with the Department of Family Practice, UBC Faculty of Medicine, assisting with medical education through moderating small group sessions and teaching students in clinical settings at KGH.
While still young in his career, Dr. Huang has set an example for future SMP alumni by promoting collaboration, community building, and philanthropy in the SMP and Kelowna, and inspiring current and future SMP students to do the same. Please join the UBC Southern Medical Program and the UBC Faculty of Medicine in recognizing Dr. Huang for his service, dedication, and contribution to UBC and its alumni community. Tuum Est!
In all, 19 Alumni Builders are being recognized this year. A complete list of recipients can be found at www.alumni.ubc.ca/alumni-builder-awards/ . Recipients will be recognized this winter and spring at a host of alumni programs and special events.
To learn more about alumni UBC, Alumni Builder Awards Program and other initiatives, you are invited to visit the www.alumni.ubc.ca/alumni-builder-awards/