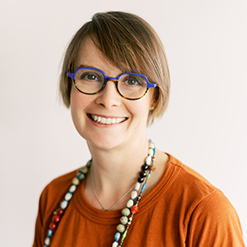 Knowing that we're stronger together, a small group of UBC's first graduates formed alumni UBC on May 4, 1917. The UBC alumni community is now a global network of more than 360,000 UBC alumni in 140 countries.
The Alumni Builder Awards were established as part of alumni UBC 100, the alumni association's centennial, to recognize alumni who, in their own way, have made important contributions to the success of UBC and its alumni community. The awards are presented by alumni UBC on the recommendation and in partnership with UBC's faculties, advisory councils, and other leadership groups.
Alixandra (Alix) Bacon, BSc'07, BMw'12, is awarded an Alumni Builder Award in recognition of her service to the midwifery profession through strong leadership in Canada and across the world, and her commitment to midwifery education at UBC as Clinical Faculty.
Since graduating from the UBC Midwifery Program in 2012, Alix has been serving families in the Richmond and Delta communities. Prior to midwifery, she worked as a sexual health educator. She is a part of the Clinical Faculty at UBC and has worked in midwifery education and association-strengthening in East Africa through UBC Midwifery's Students for Global Citizenship and the UNFPA-CAM Strengthening Midwifery Services in South Sudan projects. As an alumna of the UBC Midwifery Program, Alix was awarded the UBC Midwifery Vision and Leadership Award in 2015.
During her tenure as President of the Midwives Association of BC (MABC), Alix led the contract negotiations working group in preparation for agreement re-negotiation and participated in ongoing re-negotiation with the BC Ministry of Health. At the national level, Alix is the current President of the Canadian Association of Midwives (CAM) and her leadership is focused on advocating for essential supports for midwives, disseminating practice supports and inter-professional collaboration to ensure the sexual and reproductive rights of birth people are prioritized during the COVID-19 pandemic. Alix and CAM are also committed to advocating for the growth of Indigenous midwifery, strengthening associations within our confederacy and globally, and promoting excellence in midwifery practice, reproductive justice, and anti-oppressive approaches to health care through knowledge translation.
Alix's dedication and passion for midwifery and healthcare is evident as she continues to support the midwifery profession through education and advocacy. Please join the UBC midwives and the UBC Faculty of Medicine in recognizing Alix for her service, dedication, and contribution to UBC and its alumni community. Tuum Est!
In all, 19 Alumni Builders are being recognized this year. A complete list of recipients can be found at www.alumni.ubc.ca/alumni-builder-awards/ . Recipients will be recognized this winter and spring at a host of alumni programs and special events.
To learn more about alumni UBC, Alumni Builder Awards Program and other initiatives, you are invited to visit the www.alumni.ubc.ca/alumni-builder-awards/